October 28, 2015
2015 Business Excellence Awards
By Amy Gaglardi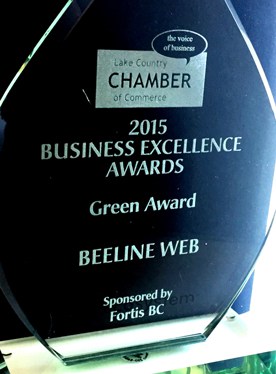 We are proud to announce that we have won the Green Award at the 2015 Lake Country Chamber of Commerce Business Excellence awards! We would like to send a huge thanks to whoever nominated us in Lake Country!
Besides our building, we try to be mindful of the environment with all of our decisions. We are an almost paper-free office, use recycled products for our branded print material, use organic cleaners, organic coffee, provide organic fruit, etc. We try to do anything that can help make the smallest footprint and be the least damaging to our world.
Check out our YouTube video below that highlights all of the environmental aspects of our building!
Thanks again to everyone that nominated and voted for us – it is greatly appreciated and we are honoured to have won this award!